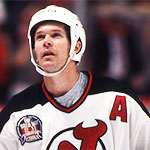 John Carter MacLean (born November 20, 1964) is a former Canadian ice hockey player, and former head coach of the New Jersey Devils. He was most recently an assistant coach with the Carolina Hurricanes.
John MacLean was selected 6th overall in the 1983 NHL Entry Draft. He was selected as the 1st choice of the New Jersey Devils. MacLean made his Devils debut on October 5, 1983 against the New York Rangers. Perhaps his most memorable moment as a Devil came on April 3, 1988, when he scored a goal in overtime against the Chicago Blackhawks to send the Devils to the playoffs for the first time.
On June 7, 2002 John MacLean retired from hockey after 18 seasons.
Age
Season
Team
Pos
GP
G
A
PTS
+/-
PIM
Shot %
37
2001-02
DAL
RW
20
3
3
6
-1
17
7.5
35
1999-00
NYR
RW
77
18
24
42
-2
52
11.4
34
1998-99
NYR
RW
82
28
27
55
5
46
12.1
32
1996-97
NJD
RW
80
29
25
54
11
49
11.4
31
1995-96
NJD
RW
76
20
28
48
3
91
8.4
30
1994-95
NJD
RW
46
17
12
29
13
32
12.2
29
1993-94
NJD
LW
80
37
33
70
30
95
13.4
28
1992-93
NJD
RW
80
24
24
48
-6
102
12.3
26
1990-91
NJD
RW
78
45
33
78
8
150
15.4
25
1989-90
NJD
RW
80
41
38
79
17
80
12.7
24
1988-89
NJD
RW
74
42
45
87
26
122
15.8
23
1987-88
NJD
RW
76
23
16
39
-10
147
11.3
22
1986-87
NJD
RW
80
31
36
67
-23
120
15.7
21
1985-86
NJD
RW
74
21
36
57
-3
112
15.1
20
1984-85
NJD
RW
61
13
20
33
-11
44
14.1
19
1983-84
NJD
RW
23
1
0
1
-7
10
4.5
NHL season totals
1087
393
400
793
3
1269
12.1